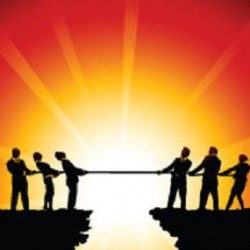 This past week, visionSynergy participated in the Missio Nexus 2012 North American Mission Leaders Conference where one of the major workshops was focused on the theme of contextualization in Muslim ministries. The workshop was presented by members of the Bridging the Divide consultation, which visionSynergy senior advisor, Dave Hackett, has helped facilitate for the past two years.
Over these two years, the Bridging the Divide consultation has brought together numerous professors, translators, missiologists, funders, and leaders of evangelism and church planting ministries among Muslims, including a number of believers from Muslim backgrounds.
The purpose of the consultation was to address highly-charged controversies around contextualization in Muslim outreach, and in particular what is known as the "Insider Movement."
The intention was to bring together people from many sides of the debate for open and honest discussion and to dispense with misperceptions, misrepresentations, and demonizing critiques by allowing people to speak for themselves from their various points of view.
Bridging the Divide has been broadly considered a success by building relations between groups of those adhering to one position or another, increasing the level of mutual understanding, healing broken relationships, and prompting higher ethical standards for criticisms against those who hold differing positions on Muslim contextualization.
Missio Nexus, the host of the North American Mission Leaders Conference, has posted a list of resources from Bridging the Divide to better understand these issues of contextualization, including the 2011 BtD consultation report and the 2012 BtD summary report.