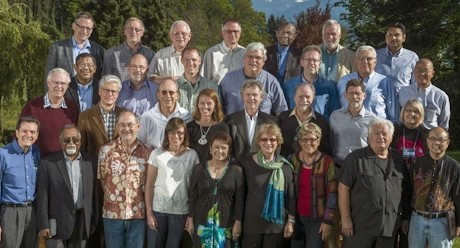 In May 2014, The Lausanne Movement celebrated its 40th anniversary
Pictured above are the Lausanne Senior Associates,
who are building networks to address strategic ministry issues
You may already know that The Lausanne Movement stands as one of the most diverse and influential ministries in modern Evangelical Christianity. Christianity Today magazine called the Third Lausanne Congress (Cape Town 2010) the most diverse gathering of Evangelical leaders ever assembled.
But Lausanne's diversity is not only an expression of the Movement's commitment to global ministry, diversity also provides the foundation for one of its highest values: collaboration. When leaders across denominational, theological, cultural, and linguistic divides come together in unity to advance the Gospel worldwide, barriers must be bridged, trust built, and rivalries reconciled.

Over the past several years, we've collaborated with Bakke Graduate University to develop a graduate-level course preparing leaders for ministry collaboration. Very few Christian higher education institutions anywhere give students tools to build collaborative partnerships; BGU has made this course a signature offering in their core curriculum. (Last year, this course was one of the most highly-attended summer courses ever offered by BGU!)
Since we first developed this course and released it online for free, at least sixteen educational institutions around the world have implemented or adapted it for their students, and there is ongoing interest as dozens more have downloaded the curriculum for further consideration.