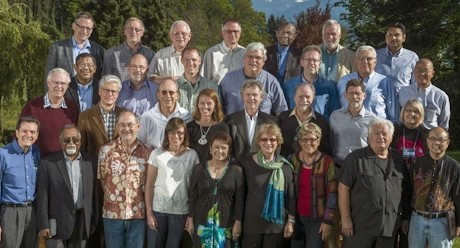 In May 2014, The Lausanne Movement celebrated its 40th anniversary
Pictured above are the Lausanne Senior Associates,
who are building networks to address strategic ministry issues
You may already know that The Lausanne Movement stands as one of the most diverse and influential ministries in modern Evangelical Christianity. Christianity Today magazine called the Third Lausanne Congress (Cape Town 2010) the most diverse gathering of Evangelical leaders ever assembled.
But Lausanne's diversity is not only an expression of the Movement's commitment to global ministry, diversity also provides the foundation for one of its highest values: collaboration. When leaders across denominational, theological, cultural, and linguistic divides come together in unity to advance the Gospel worldwide, barriers must be bridged, trust built, and rivalries reconciled.
As a resource for the recent Lausanne Cape Town 2010 gathering, visionSynergy published the Partnership Field Guide – a 60-page handbook outlining the step-by-step process for building effective ministry partnerships. Developed out of nearly 30 years of field experience, the Guide covers the 15 key principles and the 3 main stages in the process of working with others toward a common vision. The Guide was distributed to all 4,000 participants at the Cape Town 2010 gathering.
Click here to download a PDF copy for yourself.
The Power of Partnership is a short video from visionSynergy that was first shown during the plenary sessions of the Lausanne Cape Town 2010 gathering. This video highlights three examples from recent history that demonstrate how ministries working together were able to see significant advances in national, regional, and international outreach for the Gospel. Members of the visionSynergy team were involved as advisors in all three partnerships – from Mongolia, to North Africa, to global sports outreach.
For more videos from visionSynergy, visit our YouTube Channel.