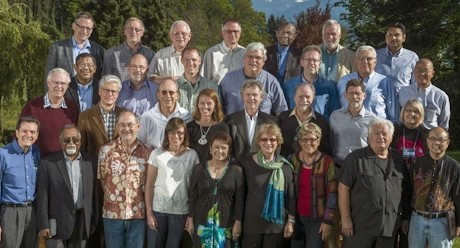 In May 2014, The Lausanne Movement celebrated its 40th anniversary
Pictured above are the Lausanne Senior Associates,
who are building networks to address strategic ministry issues
You may already know that The Lausanne Movement stands as one of the most diverse and influential ministries in modern Evangelical Christianity. Christianity Today magazine called the Third Lausanne Congress (Cape Town 2010) the most diverse gathering of Evangelical leaders ever assembled.
But Lausanne's diversity is not only an expression of the Movement's commitment to global ministry, diversity also provides the foundation for one of its highest values: collaboration. When leaders across denominational, theological, cultural, and linguistic divides come together in unity to advance the Gospel worldwide, barriers must be bridged, trust built, and rivalries reconciled.

Our friends at Create International and the School of Cartooning and Animation for Missions have crafted an inspiring four-minute video telling the story of how partnership can accomplish great things.
Source: Create International Taiwan
Via YouTube
This is a true story of how two workers created a partnership that grew to become a global network of multiple churches, workers, and organizations advancing the gospel through collaboration.
What a great achievement for the Kingdom! We pray that this video will educate, inspire, and motivate many toward Kingdom partnerships.
As the narrator says: "Accomplishing the Great Commission in your area can't be done alone: collaborate."
PS: You can download your copy of the 720p Quicktime movie here. Also, if you want the Mandarin Chinese version, you can access it here.

While there, please consider donating at least USD $5 to Create International's GoFundMe account for the ongoing use of these films in hi-definition format—or you can purchase a high-definition version of the video for offline use and training. All funds will go toward training costs for students attending Create International schools.