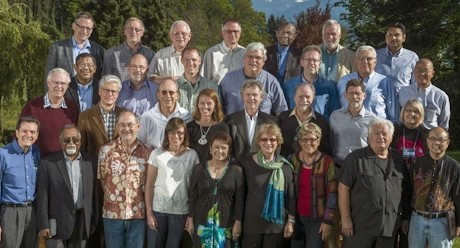 In May 2014, The Lausanne Movement celebrated its 40th anniversary
Pictured above are the Lausanne Senior Associates,
who are building networks to address strategic ministry issues
You may already know that The Lausanne Movement stands as one of the most diverse and influential ministries in modern Evangelical Christianity. Christianity Today magazine called the Third Lausanne Congress (Cape Town 2010) the most diverse gathering of Evangelical leaders ever assembled.
But Lausanne's diversity is not only an expression of the Movement's commitment to global ministry, diversity also provides the foundation for one of its highest values: collaboration. When leaders across denominational, theological, cultural, and linguistic divides come together in unity to advance the Gospel worldwide, barriers must be bridged, trust built, and rivalries reconciled.
For four decades The Lausanne Movement has been a major force in international collaboration: from The Lausanne Covenant of 1974, to The Manila Manifesto of 1989, to The Cape Town Commitment of 2010, The Lausanne Movement has consistently called the globally diverse Body of Christ to unity and collaboration in mission.
The Second Lausanne Congress in 1989 generated over 300 strategic partnerships in world evangelization, with many involving international cooperation.
Following the Third Lausanne Congress in 2010 David Bennett joined Lausanne as Chief Collaboration Officer. Subsequently, Bennett doubled the number of Lausanne's issue-focused Senior Associates. Now, more than 35 leaders worldwide are focused on building issue-centered global networks to address strategic ministry sectors such as orality, Muslim ministry, least-evangelized peoples, human trafficking, and more (see the full list of Senior Associates here).
Phill Butler, visionSynergy's founder and Senior Strategic Advisor, also serves as the Lausanne Senior Associate for Strategic Evangelistic Partnerships. At the recent 40th anniversary gathering, Phill was privileged to conduct an intensive workshop with Lausanne's Senior Associates and all eleven geographically focused International Deputy Directors in order to to accelerate the growth of the Issue Networks. Over the next year, Phill and the visionSynergy team will be working closely with Bennett and the Senior Associates to strengthen their network development and provide practical partnership resources.
We celebrate with The Lausanne Movement their 40 years of collaborative achievements and pray for continued success in their mission: "Calling the Whole Church to take the Whole Gospel to the Whole World."