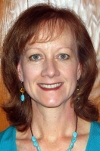 Dr. Brad Smith, Chairman of the Board of Directors at visionSynergy, announces that on July 1, 2011, Kärin Primuth became the new CEO of the global partnership development ministry, visionSynergy. Primuth took over the helm of visionSynergy from Phill Butler, a pioneer in the global partnership movement. Butler was the founder of Intercristo, Interdev, and visionSynergy, and will continue full-time with visionSynergy as Senior Strategy Advisor.
For the last two years, Primuth led visionSynergy's higher education initiative to develop and globally distribute collaboration curriculum through Christian higher education institutions. Over twenty Christian colleges, universities, and seminaries in nine countries are using or have committed to use the versatile "Cause Collaboration: A Better Way to Change the World" curriculum in the coming year. Currently available in English and Spanish, this curriculum and Phill Butler's partnership textbook, "Well Connected: Releasing Power and Restoring Hope Through Kingdom Partnerships," will be available in ten languages within three years.
Kärin Primuth came to visionSynergy two years ago with a wealth of international ministry experience. She has lived in South Africa, India, and China, and traveled and worked in a wide range of other countries. Primuth has led inner-city and Missions Mentoring programs, and developed an Urban Ministry degree program for Grand Canyon University in Phoenix. She has a Bachelor's degree in Education from Northwestern University and a Master's degree in Urban Planning from the University of California. Primuth lives in South Pasadena, California, is married, and has three children.
Since 2003, visionSynergy has focused primarily on developing and advising networks & partnerships in the unique strategic global opportunities that emerged in this new century. These opportunities include the non-English use of the Internet for evangelism, the challenge of 3.5 billion non-literate oral communicators, the rising mass of people in the great cities of the world, and the coordination of Muslim-focused ministries.
In 2007, visionSynergy extended its focus towards developing the collaborative capacity of next generation leaders. As Smith put it, "We live in an increasingly inter-connected world at all levels. The real question is whether the next generation of lay and ministry leaders will see collaboration as the default, primary strategy for Kingdom work, or if they will continue to work independently at doing their own thing." The Cause Collaboration course is one of many tools designed to implement this vision.
"There's a wonderful twist to this leadership transition story," adds Butler. "Kärin is my eldest daughter. Neither of us anticipated Kärin's transition to this role, but after a prayerful search for a next generation CEO, the Board identified Kärin as the best candidate. I am delighted with the decision, and I am fully committed to supporting Kärin and her great team as they help God's people work together to advance Kingdom priorities."
Kärin Primuth can be reached at kprimuth@visionsynergy.net